Following the news regarding the missing OFW in Kuwait, minority lawmaker raised his concern towards the case which prevailed even after the signing of the memorandum of understanding (MOU).
As confirmed by ACTS-OFW Party-list Rep. AnicetoBertiz III, the OFW identified as RonalynYontingLagawan went missing for 18 months already.
"We've been advised that Ms. Lagawan's family has lost all contact with her after she ran away from her employer in Kuwait in February 2017," says Bertiz.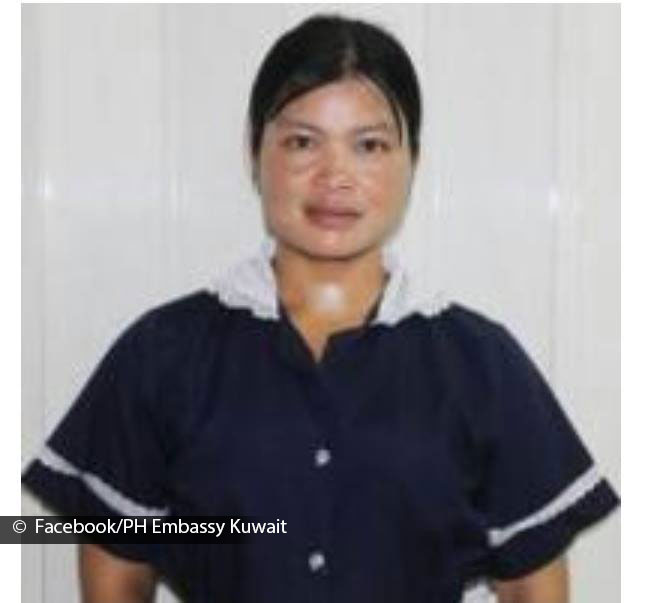 A social media campaign was already launched to find OFW, who went to work in Kuwait last 2015.
"We hope that she is okay and that maybe she is just afraid to surface or call her relatives," says Bertiz.
Bertiz also said that those domestic helpers in Kuwait who chose to run away from their sponsors end up getting arrested and imprisoned by authorities.
"We appeal to anyone who may have knowledge of her (Lagawan's) whereabouts to directly communicate with us at the embassy because her family is worried,"Bertiz added.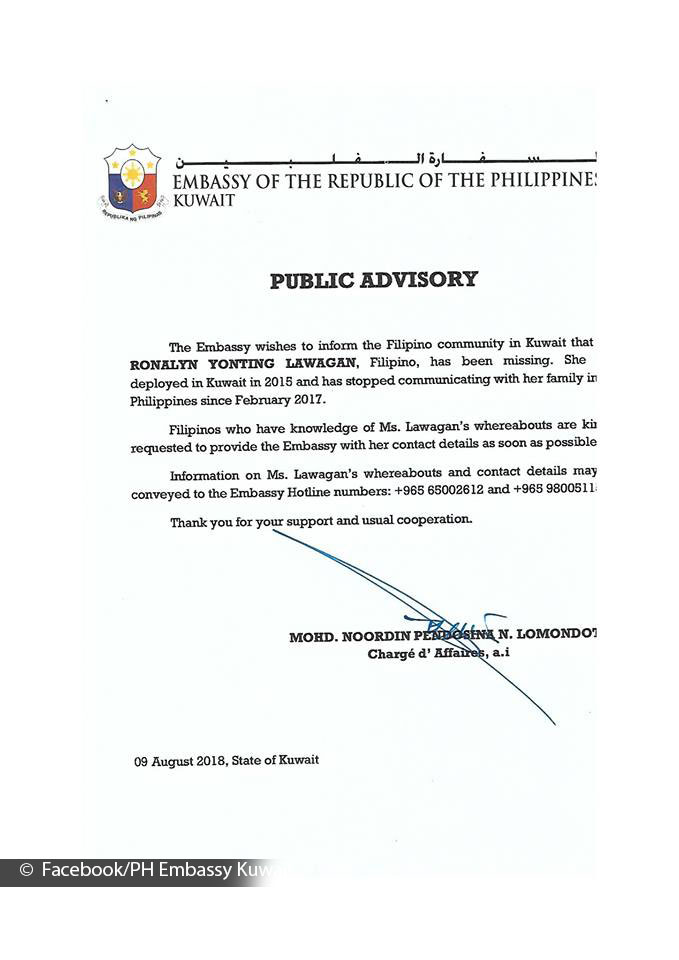 Currently, there are a huge number of Filipinos working in the oil-rich country including nationals from Ethiopia, Sri Lanka, India, Bangladesh, and Nepal.
Earlier this year, it can be recalled that both Philippines and Kuwait signed an understanding which was meant to protect the welfare of Filipinos, particularly domestic helpers, in Kuwait.
The signing of the MOU was done after the brutal killing of Joanna Demafelis, whose body was found inside the freezer in her employer's apartment.
The Philippines implemented a total deployment ban towards the sending of Filipino workers in Kuwait but it was later lifted after the MOU was signed.
As of the moment, it remains unclear if the suspect of the crime, a Lebanese man, and a Syrian wife, will be facing a death sentence.
See clip
NAWAWALANG OFW | Hindi pa rin nakikita ang isang OFW sa Kuwait na tumakas sa kanyang amo noon pang nakaraang taon.For more latest stories, visit us at www.news5.com.ph

Posted by News5 on Friday, August 24, 2018