Recruitment Open Day
Date 14 March 2017 | Time 10am to 4pm
Venue: – Inn & Go Plaza Hotel "Formerly Swissbel Plaza Hotel", Kuwait City
Hotel location Here 
18/22 Transferable Visa Required
For more information Call 22281430, Email [email protected]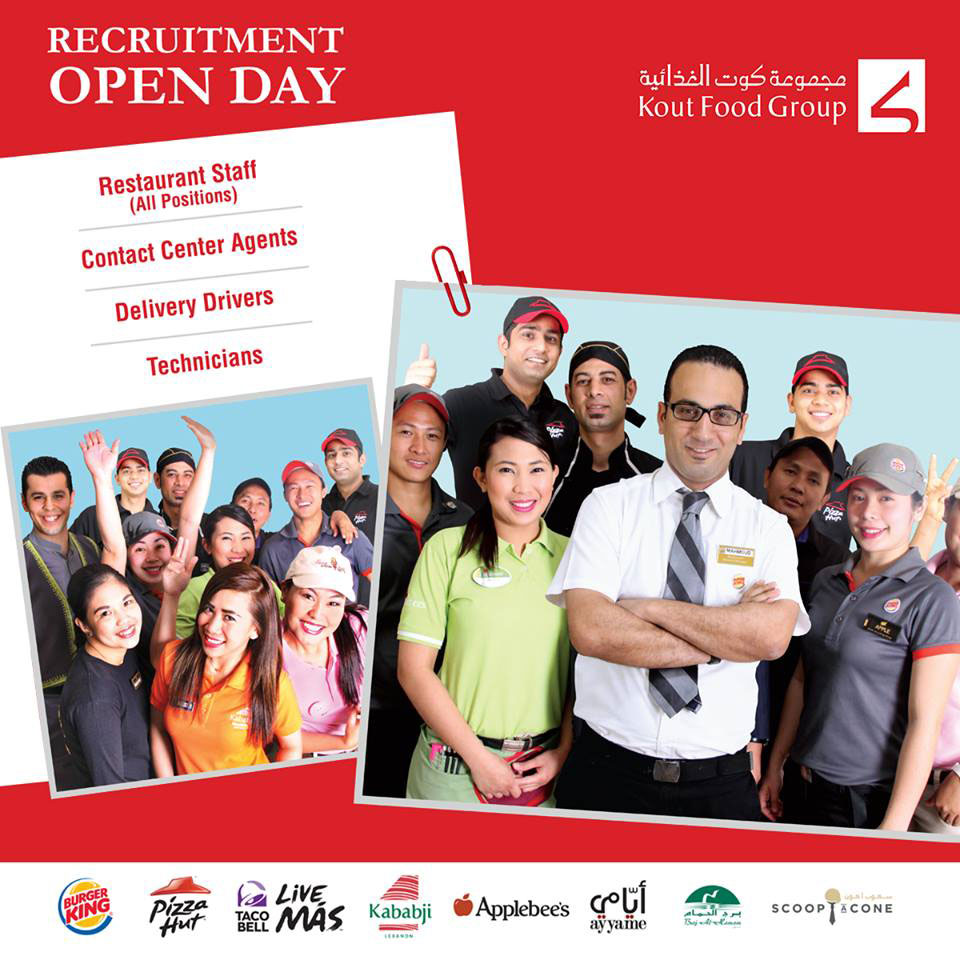 Kout Food Group
Kout Food Group started its operation in Kuwait in the year 1982 with the much-loved creation of 'Hungry Bunny', which was the first local franchise. The Group became a closed Kuwaiti shareholding company on February 22, 1998 in accordance with Kuwait's Law of Commercial Companies and became listed on the Kuwait Stock Exchange as of July 28, 2007.
Since then, the Group is dedicated to being a pioneer in our field and is currently engaged in the operation of international and locally inspired restaurants in Kuwait, the United Kingdom and Kurdistan-Iraq, catering services, import and export of food related items, representation of foreign companies as well as advising others in such businesses.
Within Kuwait, the Kout Food Group manages and operates internationally recognized brand names of Burger King, Pizza Hut, Taco Bell, Applebee's, Kababji, and Burj Al Hamam. Building on our successful entrepreneurial spirit, Scoop a Cone and Ayyame, are part of the growing family of home-grown concepts committed to always bringing our customers new and innovative products and of the best quality.
Our Factory in Sabhan 'Fresh Productions', is a state of the art manufacturing facility with production capability for an extensive range of pre-packaged, own label, private label, catering with airline potential.
Central to our values at Kout Food Group is passion for food and people. People are at the heart what we do, and delighting our customers is what motivates us.
Our Hungry Bunny pioneering spirit lives on through our dedication to innovation in all our initiatives by continuing to be leaders in our field.
International Presence
Global expansion is a key part of Kout Food Group's strategy in being a global player in the food industry. In 2006, the company positioned itself by moving into the European market with London as its base. To further support this strategy, Kout Food Group established a full management team within its London office.
In 2013, the Group expanded its portfolio in the United Kingdom (UK) with the acquisitions of Little Chef Group and South West Coffee Ltd. 2014 witnessed the expansion of the Group's current portfolio with the acquisitions of a further Costa Coffee franchise (Coffee Snobs), Subway and increased development within its existing branded estate.
Kout Food Group's current portfolio of brands in the UK includes Little Chef, Costa Coffee, Burger King, Subway, KFC and Cha Cha Moon and employs nearly 3,000 people in the UK across over 200 stores. Within the UK, the track record of Kout Food Group has been phenomenal, underlining the company's capabilities to operate successfully beyond Kuwait and the MENA region.
The year 2014 witnessed the entry of Kout Food Group into the Kurdistan market with the first Pizza Hut restaurant opening in Erbil. The Group has maintained effective leadership abroad through its ability to straddle diverse cultures in its respective markets. Via KFG