More than 100 guests attended the first anniversary of Max's Restaurant last night.
Media and VIP guests, including stalwarts of the local Pinoy community, mingled with Max's Chef Enrique Suarez and his team as they enjoyed dishes from the new menu, which was also launched to coincide with this special event. Renato O. Villa, Philippines Ambassador of the Philippines in Kuwait, was in attendance. Entertainment was provided by a popular artists including Joanna Slayton, Ramy De la Cruz, Carlo, Najwa, Jennifer and popular dance group – One Groove & Next Episod Crew. Roman Pintorukit, a popular Filipino graffiti artist also unveiled a very cool artwork specially created for Max's Restaurant.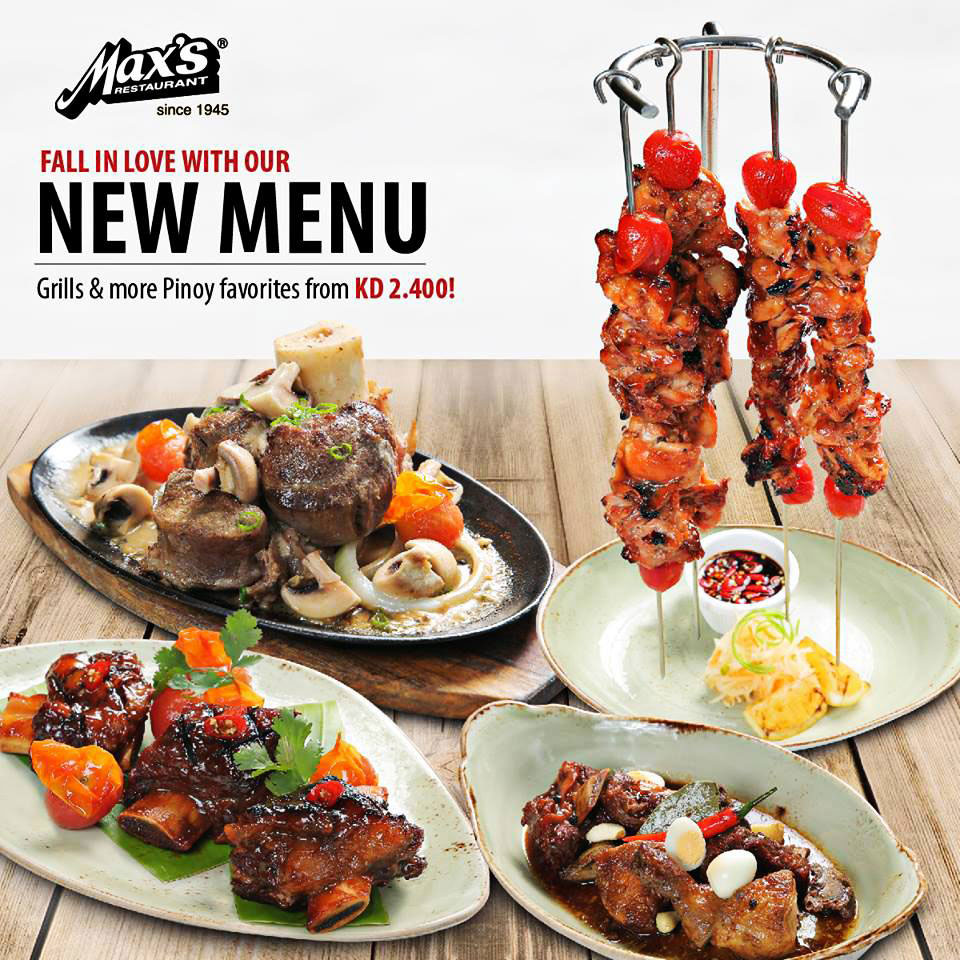 Conceptualized by Chef Henry as he is popularly known, the new menu features for the first time, grilled dishes, sizzlers, seafood and Pinoy favorites like Adobo, Sisig, Tokwa't Baka, Inihaw na Pusit and Boneless chicken BBQ and even Spanish influenced dishes like the Beef Ribs Humba. It will also continue to include core dishes such as Max's Fried Chicken and Kare-Kare that have helped cement Max's reputation as the region's number choice for Filipino food.
"Filipino food is comfort food and meant to be eaten with family and friends. We look forward to welcoming one and all to the cozy, friendly and inviting Max's Restaurant in Kuwait, now enhanced by a new menu that exudes the passion my team and I have for preparing the food we grew up eating and now love to cook for others," added Chef Henry. "It tastes both familiar and new, which is exactly the experience we wish for our diners."
Renowned for its signature dishes, which combine sweet and savoury flavours, legendary 'Sarap to the Bones' Max's Fried Chicken, cosy interiors and heart-warming service, Max's is a must-visit for the discerning food lover.
"The local Filipino community easily relate to Max's Restaurant. Whether it's a baptism, birthday, wedding or anniversary, a business lunch or a casual catch up with friends, Max's promises an unforgettable dining experience, one that takes the Pinoy back home and everyone else to a dining table in the Philippines," said Mohammed Ismail, Operations Manager, Max's Restaurant.
"Chef Henry as we like to call our resident Filipino expert and food hero has now conceptualized a menu that celebrates the diversity in Filipino cuisine that is bright and rich, delicious and versatile. He has taken traditional favorites and regional eats and added his own special touch to make Max's new menu something that we are certain everyone, Filipinos or otherwise, will relish," he added.
About Max's Restaurant
Max's Restaurant was established in Quezon City, Philippines in the year 1945. From humble beginnings with a single roadside café in 1945 , to over 170 restaurants 71 years later, Max's today is a household name – The most loved Filipino brand. Max's serves thousands of guests everyday across the Philippines, North America and The Middle East. Max's Restaurants are famous for their delicious Filipino dishes which combine sweet and savoury flavours, the legendary 'Sarap to the Bones' Max's Fried Chicken, cosy interiors and heart-warming service.
Max's Restaurant operates 10 branches in the Middle East. 7 in UAE, 2 in Qatar and 1 in Kuwait
Follow Max's Restaurant on Facebook & Instagram 
Written by :  Maryam Ahmad –Marketing & PR Consultant 
BRAVE : Integrated Brand + Communications Agency
www.brave-agency.com