KUWAIT CITY, Dec 23: A Filipino man stabbed his Filipina concubine in the neck to death, and ended up committing suicide by jumping from the seventh floor of the woman's apartment in Bneid Al-Gar, says Al-Seyassah.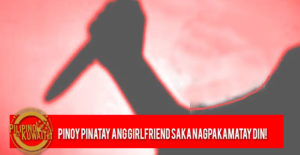 A security source said Rescue officers led by the Assistant Undersecretary for Public Security Major General Ibrahim Al-Tarrah rushed to the scene after the Operations Room of the Interior Ministry got a distress call from the victim's friend who said her friend had been killed by her own concubine.
Upon arrival, the officers found the lifeless body of the Filipino suspect on the ground in a pool of blood and the body of the victim inside her room. The bodies were promptly taken to Forensics for an autopsy.
According to the witness, she was sharing the apartment with the victim, and when she came back home, she sighted the man holding a knife. She ran out quickly and shut the door when the man confessed killing her friend, and resisted his efforts to force the door open.
She quickly notified the Operations Room about the episode and later saw the man jumping from the window.
The police have since been investigating direct and remote causes of the incident.via Arabtimes