The companies on Forbes Middle East's first list of the "Top 15 Fintech Apps In The Middle East" are helping customers make payments, remit money, borrow, and invest online. In total, they have been downloaded 9.5 million times and they processed around $6.9 billion worth of transactions in 2020.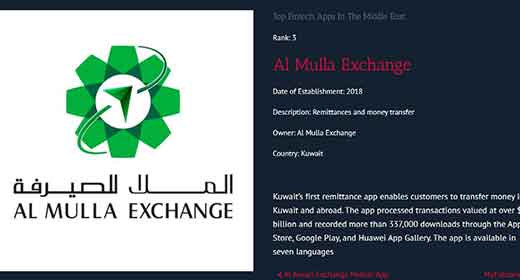 The Kuwait base Al Mulla Exchange ranked in third place that according to Forbes  Al Mulla Exchange Kuwait's first remittance app enables customers to transfer money in Kuwait and abroad. The app processed transactions valued at over $1 billion and recorded more than 337,000 downloads through the App Store, Google Play, and Huawei App Gallery. The app is available in seven languages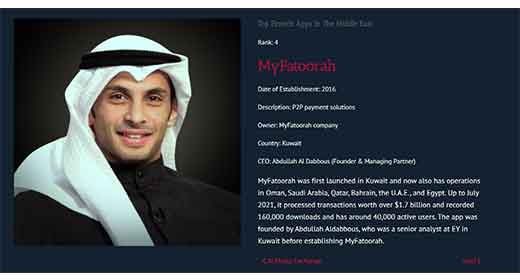 Ranked in fourth place is MyFatoorah firs launched in Kuwait and now also has operations in Oman, Saudi Arabia, Qatar, Bahrain, the U.A.E., and Egypt. Up to July 2021, it processed transactions worth over $1.7 billion and recorded 160,000 downloads and has around 40,000 active users. The app was founded by Abdullah Aldabbous, who was a senior analyst at EY in Kuwait before establishing the company.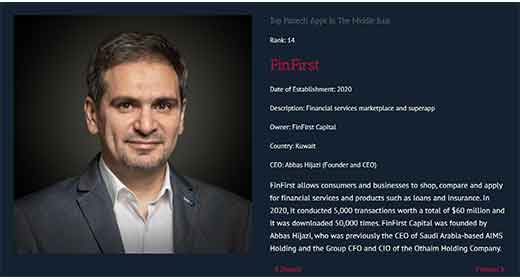 Aside from those two above the FinFirst ranked as well in fourten place. FinFirst allows consumers and businesses to shop, compare and apply for financial services and products such as loans and insurance. In 2020, it conducted 5,000 transactions worth a total of $60 million and it was downloaded 50,000 times. FinFirst Capital was founded by Abbas Hijazi, who was previously the CEO of Saudi Arabia-based AIMS Holding and the Group CFO and CIO of the Othaim Holding Company.
The list was constructed based on the amount of money executed through the app in 2020, the number of downloads and active users, and the date of establishment. Fintech applications owned by traditional banks and telecommunication firms were excluded.
Source Forbes