KUWAIT CITY, June 14: Citing humanitarian reasons, the General Department for Residence Affairs said the residence permit of approximately 11,500 expatriates — parents and siblings — holding residence under Article 22 will be renewed.
However, the renewal for those siblings and parents who are under Article 22 is subject to health insurance from private companies.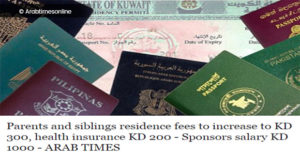 At the moment the insurance fees is KD 50 and KD 200 for residence permit for one year.
However, a draft law has been submitted by the Ministry of Interior stating that the salary of the sponsor should be not less than KD 1,000 for those who want to sponsor their parents or siblings.
The residence fees also will increase from KD 200 to KD 300 and the health insurance to KD 200 to ease the pressure on health services as a result of which the citizens suffer.
Of late there have been reports that Kuwait plans to put an end to sponsorship of siblings and parents who are already in the country and hold residence under Article 22, but according to the authorities the sponsorship for new applicants remain suspended from the date the decision was issued about one month ago until further notice.
Via : Arabtimesonline