LuLu Hypermarket, the largest retailer in the region, is holding a range of promotions and exciting interactions with customers, as part of the shopping extravaganza of Hala February, and the National and Liberation Days in Kuwait
Some of the fantastic promotions during the month-long celebrations include the Trolley Promotion, where lucky winners get everything in their trolley for free, and Digital Fest, which showcases the best electronic products at competitive prices. There is also a 'Brand of the week' and a 'Product of the Day' promotion that highlights the best products and brands. Also, to lend support to local farmers as part of the celebrations, grocery sections at LuLu outlets will be stocked with farm-fresh fruits and vegetables sourced locally.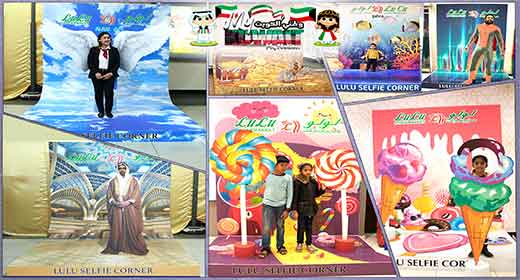 As part of its initiative to make shopping an enjoyable and memorable event for customers, LuLu branches will feature a 'Selfie Corner' during the promotion period, which will enable shoppers to take photos of themselves or their loved ones against interesting background cutouts. A number of traditional cultural events are also being organized as part of the celebratory promotions to entertain shoppers and highlight the patriotic fervor and love for the country.
Aside from the regular promotions, there is the ongoing amazing 'Dream Drive' promotion being held from 29 January to 14 March at all LuLu outlets in Kuwait. During the promotional period, shoppers will receive one e-raffle coupon for every KD5 worth of purchases at any LuLu branch, which will entitle them to enter a raffle draw to win one of four Nissan X-Trail 2020 SUVs. In addition to the bumper prize of four Nissan SUVs, 100 lucky winners will also receive KD100 worth of gift vouchers each, for a grand total of KD10,000 in gift vouchers.
LuLu Hypermarket remains committed to offering customers the widest range and variety of quality products from around the world at highly competitive prices. The 'Hala February promotions are part of the Hypermarket's customer-oriented approach of constantly interacting with customers and adding value to their shopping experience.