PAL had maintained flights to Kuwait despite difficult market conditions as a service to our countrymen working in this Middle Eastern country.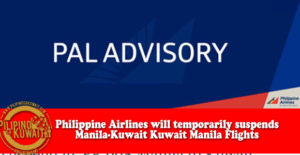 Since earlier this year, the flag carrier has repatriated free of charge nearly 900 distressed Filipino workers from Kuwait to Manila, in response to the call of President Duterte and the Philippine Government to assist our OFWs in Kuwait.
With the repatriation effort now complete, the ongoing slowdown in OFW travel to Kuwait has made regular operations economically unsustainable, hence the need to suspend these flights to Kuwait until such time that market conditions on the route improve.
Instead, PAL will continue to serve Kuwait through our flights to Dubai, Abu Dhabi, Doha, Riyadh, Jeddah and Dammam, as the airline with the largest network of routes between the Philippines and the Middle East.
Passengers with flights on May 16 and beyond may avail of any of the following options:
Rebook their flights to travel on or before 16 May.
Reroutetheir PAL Manila – Kuwait journey to fly on PAL to Abu Dhabi or Dubai or Doha, and then on Other Airlines (OAL) for the connecting flight to Kuwait.
Reroute their PAL Kuwait – Manila journey to fly on Other Airlines (OAL) to Abu Dhabi or Dubai or Doha, and then take the PAL flight home to Manila.
Refund their unused tickets.
PAL assures all affected passengers with confirmed tickets that refund/reroute/rebook charges will be waived accordingly.
PAL will shoulder the cost of flights on Other Airlines (OAL) for passengers who avail of option 2.
Passengers in Kuwait may call PAL toll-free number 1-800 – 855 – 8888 and from the Philippines, hotline number (02) 855 – 8888 or visit the nearest PAL ticketing office or partner travel-agent