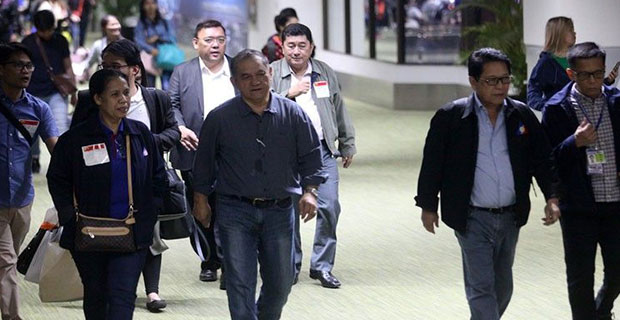 About 87 Overseas Filipino Workers arrived in the Philippines from Kuwait on Saturday after the 'memorandum of understanding' was signed. As agreed by the said memorandum, Filipino workers will be given necessary protection.
This is already the second batch of OFW's from Kuwait since the end of the amnesty program and the recent issue regarding the 'rescue operation' of alleged maltreated OFWs in Kuwait.
In the press briefing that happened in Ninoy Aquino Internation Airport (NAIA), Presidential Spokesperson Harry Roque said that more 'undocumented OFWs' will be sent back to the Philippines. The government of Kuwait even paid for their airline tickets.
Roque also believes that the relationship of Kuwait and Philippines will return to normal after the signing of the agreement.
The Department of Foreign Affairs gave the distressed OFWs financial assistance amounting to P5,000 and another P5,000 from the Department of Labor and Employment. The Overseas Filipino Workers Welfare Administration (OWWA) is also set to give P20,000 livelihood assistance to OFWs.
The agreement signed by the Philippines and Kuwait entitles to protect Filipino workers from abusive employers. They are allowed to keep their passports and have access to their mobile phones. They are also given rest days and their salaries should be paid according to what's stated in the contract.