Close to 300 overseas Filipinos in Kuwait will soon be home with their loved ones in time for the holiday season, after the Department of Foreign Affairs (DFA) and the Philippine Embassy in Kuwait mounted a pre-Christmas repatriation flight to Manila on 20 December 2020.
In a statement, newly designated Philippine Ambassador to Kuwait Mohd. Noordin Pendosina N. Lomondot said that the DFA chartered a special Philippine Airlines flight from Kuwait "in line with the marching orders of President Rodrigo Roa Duterte to bring back to the Philippines overseas Filipinos who are affected by the ongoing coronavirus pandemic."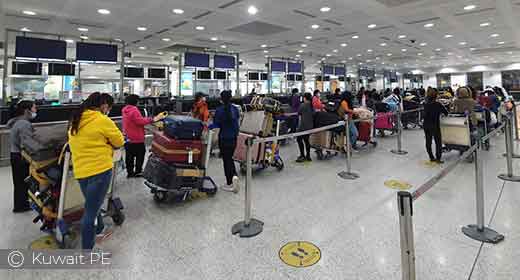 "The special Kuwait-to-Manila flight by Philippine Airlines was chartered by the DFA under its Assistance to Nationals (ATN) Fund, which was replenished recently following President Duterte's signing of the Bayanihan To Recover As One or 'Bayanihan 2' Act," Ambassador-designate Lomondot said.
Ambassador-designate Lomondot further said: "On behalf of the entire Filipino community in Kuwait, I wish to thank Foreign Affairs Secretary Teodoro L. Locsin Jr., Foreign Affairs Undersecretary for Civilian Security and Consular Concerns Brigido J. Dulay, Foreign Affairs Undersecretary for Migrant Workers' Affairs Sarah Lou Y. Arriola, and our other colleagues at the DFA for arranging this chartered Philippine Airlines flight."
"They made the wishes of our kababayan in Kuwait come true, of spending the holidays with their loved ones back home," Ambassador-designate Lomondot added.
The Embassy, the Philippine Overseas Labor Office (POLO), and the Overseas Workers Welfare Administration (OWWA) went full force in assisting the overseas Filipinos at Terminal 1 of the Kuwait International Airport.
More than three-fourths of the chartered flight's 283 passengers are distressed overseas Filipinos who previously were sheltered at the Migrant Workers and Overseas Filipinos Resource Center (MWOFRC) or were imprisoned at various Kuwaiti detention facilities.
Many of the passengers who joined the chartered flight lost their jobs amid the COVID-19-related economic lockdown in Kuwait, while five passengers are medical cases who were previously admitted to various Kuwaiti hospitals.
To date, the Embassy has assisted in the repatriation of close to 8,000 overseas Filipinos since the COVID-19 outbreak began in Kuwait in March 2020. Most recently, the Embassy facilitated a chartered Kuwait Airways flight to Manila on 29 November 2020, carrying 314 overseas Filipinos.
Source DFA