Are any of your family and friends interested in working for Kout Food Group?
Kout Food Group will be holding a Recruitment Trip to the Philippines with accredited Recruitment Suppliers.
If you have any friends, family or relatives who would be interested in being a part of Kout Food Group, please inform them of this great opportunity!
Interviews will be held at the premises of the Recruitment Suppliers whose address mentioned below from 9 am until 6 pm, candidates will have the opportunity to meet KFG representatives and get interviewed. The Selection will be made based on the results of the interview assessment ratings and feedback from the interviewers.
March 11, 2019 (Cebu )
LIGHT AND HOPE OVERSEAS PLACEMENT AGENCY PHILS.
Unit 205 LDM Bldg., MJ Cuenco Avenue Cebu City (Infront of Plaza Independencia)
Telephone Number (032) 4020892
Contact Person Atonet Vallar
March 12, 2019 (Manila)
SANGUINE GLOBAL STAFF RESOURCES CORP.
Suite 24, Pare House 1 227 EDSA, Greenhills
Mandaluyong City, Philippines
Telephone Number:  006327215886
Contact Person: Randy Alferez
March 13 & 14, 2019 (Manila)
LIGHT AND HOPE OVERSEAS PLACEMENT AGENCY PHILS.
105 Pearl of the Orient Tower 1240 Roxas Boulevard Ermita, Manila. (in front of US Embassy)
Telephone Number: 006325595904
Contact Person: Jahaziel Bidaure
They are looking to recruit the following position to Kuwait
TEAM MEMBER ( SERVER/CASHIER ) 
QUALIFICATION
– 21 to 30 years of age
– at least 5'2 of height
– at least 3 years passport validity
– willing to work in Kuwait
– Excellent Communication Skills
– With customer service experience.
REQUIREMENTS to bring:
-Updated Resume w/ passport size photo
-School Credentials
-COE (if available)
– 1 whole body picture (White background)
-Pen
-(Wear business attire)
For more information see below ads flyer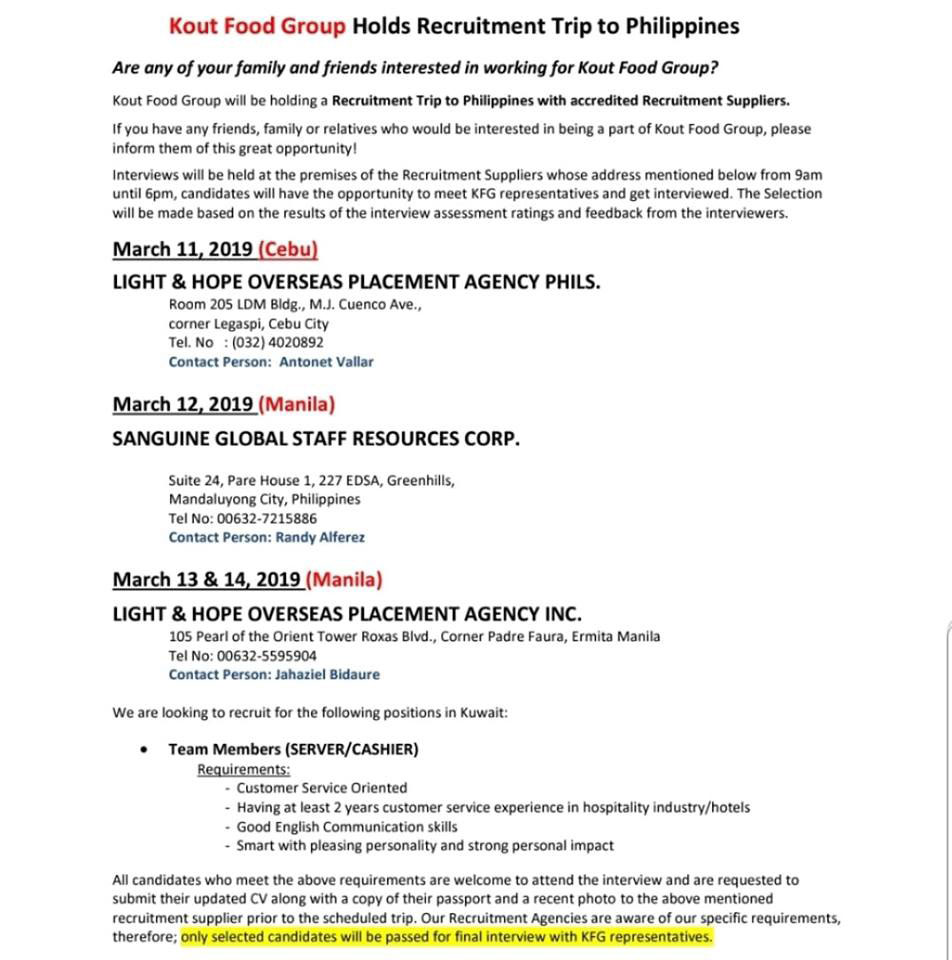 Please note that we [Pilipino Sa Kuwait ] are not a job agency. We are trying to research all Jobs Availability to help our fellow " kababayan" who needs jobs.