LuLu Hypermarket, the leading retailer in the region, announced the winners of its 'Shop at LuLu& Win' promotion, which was held in association with Kalyan Jewellers.
The promotion, which ran from 20thNovemberto 10th January, saw six winners each walking away with a prize 250 grams of gold, for a total of 1.5kg gold, from Kalyan Jewellers. The promotion offered customers, shopping for a minimum of KD10 at any LuLu Hypermarket in the country, an e-raffle coupon that entered them into the grand draw.
To add further delight to the shoppers taking part in the promotion, e-raffle coupon holders were also eligible for other prizes like a gold vouchers/diamond vouchers/ zero percent making charges on purchases from all outlets of Kalyan Jewellers in Kuwait during the promotion period.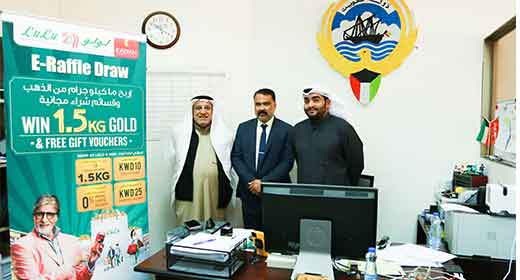 The winners of the 'Shop at LuLu& Win' were announced at the grand draw held at the Ministry of Commerce premises on 14th January, in the presence of ministry officials and top officials from Lulu Hypermarket and Kalyan Jewellers in Kuwait.
The 'Shop at LuLu& Win' promotion is part of the hypermarket's commitment to continue interacting with their patrons at every retail touch-point, from offering high-quality products at competitive prices to providing a relaxing and comfortable shopping ambiance, and making the experience of shopping at LuLu an enjoyable and exciting experience through their frequent value-driven promotions.