Presidential Spokesman Harry Roque and DOLE Secretary Silvestre Bello III held a press briefing this afternoon at the  Philippine Embassy in Kuwait.
In their visit to the country, Roque shared that they've met with  3 of Kuwait's ministers to discuss pertaining to the Memorandum of Understanding between the Philippines and Kuwait and other important matters in assuring the safety of the Filipino workers in Kuwait.
Among the ministers, they've met, Deputy Prime Minister and Minister of Interior, His Excellency Khaled Al Jarrah Al Sabah, the counterpart of Sec. Bello III, the Minister  of Social Affair and Labor and Minister of State for Econolic Development, His Excellency Hind Sabeeh Barak Al-Sabeeh and Minister Sheikh Sabah Khalid Al Hamad Al Saba of the Ministry of Foreign Affairs.
According to Roque, they had agreed to put up a special unit to handle reports of distressed OFWs and other abuse cases which Kuwait government assured of having only few cases.  They even emphasized and likewise assured that each case will be dealt with accordingly based on their existing laws.
They will also provide an emergency number which Filipinos can call when they need help, accessible in the Philippine Embassy and the Department of Interior.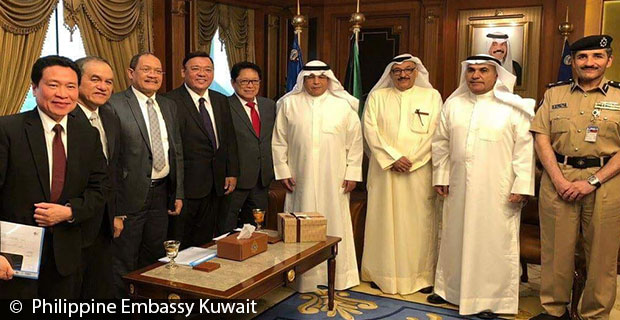 On the other hand, Roque and Bello claimed that the conditions stipulated in the Memorandum of Agreement on the protection of the OFWs in Kuwait had also been finalized and is ready for signing.  As such, the following conditions had been agreed on:
Passport of the OFW should be deposited to the Philippine Embassy and should not be surrendered to the employer;
One rest day per week should be given to the workers;
They should be given 8 hours of sleep;
They should have a decent place to sleep in and adequate food to eat;
They should be allowed to use mobile/cellular phones to be able to communicate with their families and relatives.
A month ago, a technical working team had been formed to discuss the agreement with Kuwaiti officials.
The signing of the agreement is set this coming Friday.
Meanwhile, another good news had been shared during the press briefing as more than 500 among the 600 undocumented OFWs in Kuwait are to go home to the Philippines, with travel expenses that Kuwait will shoulder.  However, 62 of them are to stay in Kuwait for having existing court cases.
Roque and Bello III are set to fly back to the Philippines on midnight of May 12. Fortunately, they are allowed to bring home 150 OFWs with them.
See the full video below :
Press briefing in Kuwait

Posted by Harry Roque on Wednesday, May 9, 2018