Lulu Hypermarket, the leading regional retailer, launched its eagerly-awaited annual mega food festival, the Lulu Food Carnival 2019, at its Al Rai outlet on 27 March. World renowned Chef Michael Swamy inaugurated the promotion, in the presence of top management at Lulu Kuwait, a large gathering of customers, well-wishers and media personnel.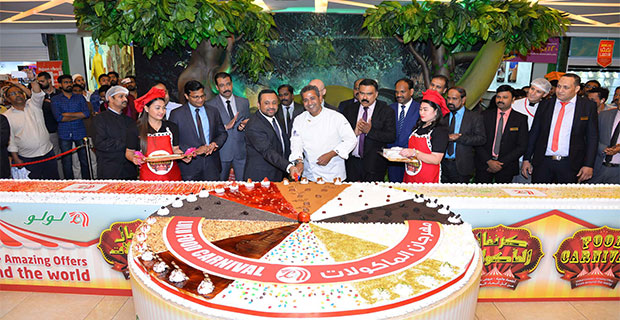 During the 11-day promotional period, a variety of culinary contests andrecord-breaking food displays were organized at Lulu outlets. A major draw during the promotion was the live cooking demonstration by Chef Swami, during which he interacted with his fans while imparting several cooking tips.
Other highlights during the food carnival were the numerous cooking competitions and record-shattering food displays. The culinary contest began a day earlier, on 26 March, to accommodate the variety of daily competitions that allowed budding child chefs, and accomplished lady chefs, to show off their culinary skills and compete in a spirited manner.
The cooking contests included competitions in Continental, Indian, Arabic and Chinese cuisines as well as in preparation of desserts. Cooking without Fire, Wow the Master Chef, Taste & Win, and Make & Eat competitions added to the allure of the food carnival. The Junior Chef contests and Kitchen Queen contests were highly competitive affairs that drew an enthusiastic response. Winners of the culinary contests, and participants alike, walked away with valuable gifts, cash vouchers and certificates.
Adding to the carnival's attraction were several record-breaking food displays presented by the talented chefs of Lulu Hypermarket. The lengthy displays included a 20-meter long cake, a 10-meter long hotdog, the longest assorted cakes display, longest Basboosa and longest banana cake. Special Pot Biryani, cutting of the millefeuille pastry, and the soft butter cake cutting also attested to the skills of Lulu Hypermarket's in-house chefs.
Lulu Hypermarket prides itself on providing shoppers with a customer-centric, value-driven experience by delivering high-quality products at competitive prices. A steady stream of innovative promotions, such as Lulu Food Carnival 2019 that make cooking and shopping a fun affair,add to the excitement of shopping at Lulu Hypermarket.