he Philippine Embassy in Kuwait continues to repatriate undocumented and distressed Filipinos from Kuwait, sending home its biggest batch of Overseas Filipino Workers under the Embassy Assisted Repatriation Program (EARP) for 2019 on 21 August 2019.
The Embassy successfully repatriated 63 undocumented and distressed OFWs on that day, bringing to 264 the number of OFWs who were repatriated to the Philippines by the Embassy this year.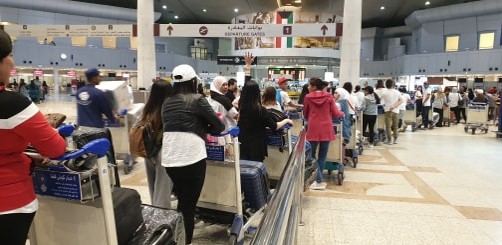 In a statement, Embassy Chargé d'Affaires (CDA), a.i. Mohd. Noordin Pendosina N. Lomondot said that "the EARP will continue all year round, as long as there are undocumented and distressed Filipinos who want to be reunited with their loved ones in the Philippines."
"A lot of people thought that the Embassy's repatriation program ended with the amnesty program of the Kuwaiti government last year. This is the reason why we continue to encourage Filipinos with expired visas in Kuwait to visit the Embassy and apply for the EARP," he added.
At the same time, CDA Lomondot thanked the Kuwaiti government for its continued support to the Embassy's repatriation efforts.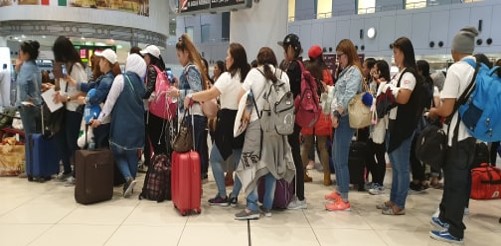 "I am very thankful to the Ministry of Interior of Kuwait for the invaluable assistance they continue to provide the Embassy. I would also like to thank the unfaltering and resilient officers and staff of the Embassy for their commitment and enthusiasm in making EARP successful," he said.
The EARP is a joint program of the Embassy and the Kuwaiti government, through the Illegal Residency Monitoring and Immigration Departments of the Kuwaiti Ministry of Interior. The EARP also aims to repatriate overseas Filipinos who were charged with absconding and expired visa cases at the Immigration Department, without having to be detained.
Apart from the all-expenses-paid ticket from Kuwait to Manila, 29 out of the 63 EARP beneficiaries were given one-way air tickets from Ninoy Aquino International Airport in Manila to their respective provinces. Other forms of welfare assistance to the repatriates include land transportation from the Embassy to Kuwait International Airport and food provisions during their stay at the Philippine Overseas Labor Office (POLO) shelter.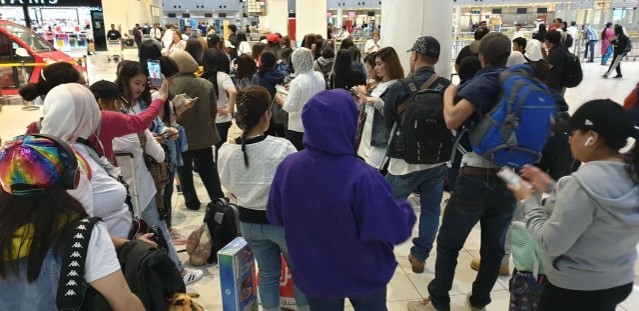 Funding for the EARP is sourced from the P1-billion Assistance to Nationals Fund of the Department of Foreign Affairs for 2019.
The Medical Response Team of the Embassy's Assistance to Nationals Unit are also assisting four OFWs with various medical conditions, who are also included in the fifth batch of EARP.
The latest batch of repatriates brings to 264 the total number of EARP beneficiaries since the start of 2019. Forty-five undocumented and distressed OFWs were repatriated to the Philippines under the EARP last 10 July 2019.
Qualified Filipinos who wish to avail themselves of the EARP may send a message to the Embassy through mobile phone number +965 9800 5115 (also available on Viber and WhatsApp)
Source DFA/Image from PE Kuwait